If you've seen the news, 'romance scammers' are among the eighty defendants indicted today by the Department of Justice in a scheme that stole millions from Americans.
Check out this video about how to spot and protect yourself from romance scams. Then share it with your friends.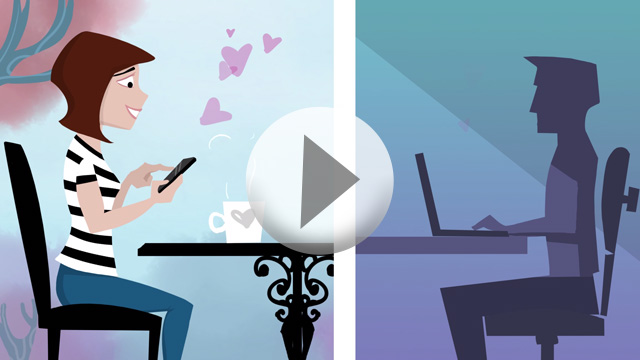 People reported losing $143 million in romance schemes last year, more than any other type of fraud reported to the Federal Trade Commission. But there are steps you can take – and then tell someone about. So watch the video, learn more, and pass it on.
530 Comments
---
I am giving as much detail to this story as I can in hopes that it helps someone else. I met 'Andrin Giachen' on Match.com. He's Swiss with one son in his 20s that does not live at home. A widower whose wife died of colon cancer 3 yrs ago. We've been chatting for the past 3 weeks and I was not aware of this scam until a friend sent me this link. He's not asked for any money but it seems like it's only a matter of time. The similarity of his story and others here are just too much. He set the stage early by telling me when we met that he's working on a big proposal to fix drilling equipment. Later revealed it was for TransCanada for a rig off of Anchorage. When we were supposed to meet for our first date he found out his proposal was accepted and he had to fly down to Dallas for onsite testing and then a presentation. He even sent me pictures of someone presenting. In Dallas, he learned that his proposal was accepted and he needed to go back to his house in NY to get some things before heading to Anchorage. During this whole time, we were exchanging photos on a daily basis. The person behind this has a whole portfolio of images to use. I even received images of him on a plane with a mask. Once in Anchorage he let me know the reception was spotty so did not have access to email but could text. The daily photos stopped as he told me he could not send any out so we have just been texting. His job on the rig has been to take notes of all the equipment that needed replacing, have it ordered and and shipped to the rig. He cannot leave the rig until the equipment arrives. So here goes my mistake - He asked me to submit an order on his behalf to the steel company in Indonesia. I did not make any payments just put in a order for all this drilling equipment he sent me (very well thought out) and made it clear it was on his behalf. I even put his email address in cc so he'd receive a copy. I suspect the next step would have been to have me pay a deposit or something on the equipment as he did not have access but not sure. OR the 'steel company' sends me a phishing email with an attached invoice that he'd ask I open. It's heartbreaking as the scammers know how to pray upon lonely people. My last text to him was to tell him he could FaceTime me when he's back on dry land. Something I know will never happen. In the meantime, stay strong if this happens to you or you think it's happening to you. Don't let your heart override your brain or your gut. Tell your friend about the story. They will keep you honest.
Anyone had contact with a Mark Roland on an oil rig in the North Sea off the coast of Norway. We've been texting and chatting since May. Same story a machine broke and he needs money for a new one. Says he has a daughter in England studying to be a doctor,wife died of cancer 6 years ago. I spoke with someone who claimed to be the daughter and she invited me to come toEngland to visit. I have pictures of him, White hair,blue eyes, handsome, nice smile. Writes romantic letters, sent me flowers when Iwas in the hospital. Says he's Swedish. Sent me a picture of his passport. Anyone know of him.?
I think I'm being scammed by a girl in the Netherlands
Got me!! Dude goes by name of David Tyler Donald. Real smooth talker, claims to be an independent Marine Engineer Contractor working in Alaska on oil rig. Wife cheated and lied, 2 kids (a girl 7 and a boy 5 in boarding school (of course). BEWARE!!!!!! SCAM!!!!!
I've been chatting with a guy called Richard Rivera, he said is working in the Gulf of California in a rig. If anyone have gotten in contact with this person, please let me know. Thanks
Has anyone been involved with an oil rig scammer by the name of Mark Spencer?
Has anyone else been contacted by someone who works on a crude oil supply vessel in the North Sea that has apparently broken down? I have been chatting to someone who has made this claim to me and now wants to send money and documents to me for me to keep safe. I was a little suspicious before but this has made me more suspicious.
I was scammed couple years ago. I have been texting a guy named Robert Steve Johnson from MI, he works on rigs. He seemed different & sincere but as times passes his manner is like others. Now asking for money for cell service so he can get his job done & return home so we can meet. As I understand everything they do is paid for including their ticket to & from the job, food etc. Does anyone have information to share with me? I would greatly appreciate it. Thanks, Patricia
I am talking with a man named Theo Kristen who says he's working on an off shore oil rig in Turkey. I'm not sure if I'm being scammed becsuse he hasn't asked for money but wants to send me money to buy a house for us. Does anyone have any feedback on this man?
Is anyone talking to Jeff Smith contractor on an oil rig, 2 boys in boarding school. He is in Oman. Wanting to meet you. Real smooth talker. Due to security he can not call you. Want to marry you . Open account where he can transfer funds into from the international bank ACB
I am concerned for a older lady. The mans name was Michael grew. Then a new man named "Robins" maybe Ron.... is now on his 4th excuse of why he wasn't on the plane. Was robbed in Syria, in the army, needs medical down payment for surgery, manager named ONeal..... cash app sent to pennie Newton??? Anyone know of this person or sound like your man??? I have pics also. Black bald man looking about 40ish!!!
David Anderson - David Mobi Group - says he is an engineer doing a large oil deal. He is half Brazlian, 6'1', sent flowers and lots of sweet talk. Same photos as Ivan Alekhin. He connected with me through FB. He said that he didn't have enough money for the taxes he needed. That was a big red flag. His English is not that great.
I have been scam by a personal they said they are nfl player Rayne Dakota Prescott for the last 3in half years of $1800.00 I have his number and I want to know is it really Dak Prescott and I have all the pictures and text messages over ours conversations and I have pictures of the gifts cards that I have brought and he wanted me to cut up the cards and deleted the text messages, I have contacted the owner of the Cowboys and the owner of the NFL Commissioner nobody's wouldn't help me. please can I get some help.
I have been talking to a man supposed to be working on a oil rig in the gulf of Mexico. He followed most of the scammers rules. Like had me to start chatting on a different web site. Fell in love quickly. But he has sent me pictures and video chats and he told me he was going to go to the hull and workout in the gym. Then sent a video of him working out. But when I do a reverse image and email nothing comes up. He did ask for 200 for a phone card when I said I couldn't do it he said fine I will have to use someone elses internet so if I can't talk to you as much this is why. So is he a scammer
I have a nasty feeling in my gut about what I read on here and I'm just so unsure of everything. Has anyone heard from an Andrew Morgan from Texas working on the oil rig off the Coast of Mexico? Completely declares that he's not a scammer and frantically tries to call me (via HangOuts App) when I bring it up, even though he's not supposed to make calls supposedly. Newest thing is that he has a trunk from a UK company that is going out of business and it holds family heirlooms and papers. Of course this incurred port fees and such totaling almost $5k. There are emails with an Agent from the company and I've looked up this company online and it seems like a legit company. But again, still not sure. My growing suspicion is when I've said I will not pay something with Bitcoin (because they all want to try that) when this "Agent" gives me an address to send a FedEx with cash in it. Red flags were going off. I just don't know. I've searched for Andrew Morgan on this site and other searches and this name hasn't popped up but maybe he hasn't been caught yet or he's new to "the game". Does anyone recognize this name?
Does anyone know a guy called Jack Lawerance lives in Florida but works on the oil rigs I mrxco
Hi, met someone on hangouts. All going well, seemed like a genuine bloke. Working on an oil rig in the gulf of Mexico, widower with a son. He asked me for a gift card which I refused, now he's ignoring me. His name is Matt low.
Engineer, lives in Dallas, wife died in car accident two years ago, met on ScrabbleGo....rents cranes, independent contractor....is ScrabbleGo s known site for scammers?
Marci Lombardi. From Florence living in US, widower with 13 year old son being raised by his mom back in Italy. Worked me on text for two months and then he left for Italy and then he left for the oil rig. He's a chemical consultant and the shipping of chemicals has been delayed, delaying his return. Oh and he needs money to get the chemicals so he can come home and finally meet me and we can be together. He didn't ask for money. I almost offered. Then I found this website with the too similar stories. Thank you for saving me, and my savings account!!
My friend is chatting with a 60 year old polish guy that started messaging her on Yahtzee or scrabble I believe. He lives in California and says he's a logger. They only text after 30 days and no FaceTime or talking on the phone. I think he's a scammer. Anyone else run across this guy? Says he's widowed and has a 17 year old daughter about to leave for college
Actually, gotten message from facebookdating ..Mr .George muensterer kept on saying " own small company does Welding in Alaska oil rig ".. he needed complaining didn't get loan from bank due low credit score .. conversation gotten seriously "how much can you send me? " .. reality, love don't demand nothing .. if your interested see photos or message ? Reply
if anyone hears of a guy named Gerry lakewood Or Ciro Gerry Lakewood Corvi.. work on rig off coast of Louisiana. Just moved to Key west originally from NYC. Wife died and nannie help him raise 16 year old daughter.. so believable.. . pipe welder the boss. called and texted all time,, run away from this man..
I have been talking to a David Joshua fits all the criteria for oil rig scammer 1) first name for both first and last name 2) widowed 3) Child living with a nanny 4) Has to only communicate on Hangout 5) Calls but no video calls 6) English broken and grammar poor 7) Falls in love quickly 8) Has no communication for a day and then claims an injury and needs medical treatment for $7,500 to be sent Bitcom. I sent nothing and blocked him. Sad Sad Sad
How do I find new for guys real or oil rig engineer working in the Philippines says his paychecks are on hold can't get his money asking for money always
Been talking to Robert John who I met in Facebook, moved to Hangouts. Very quickly in love with me and wants to marry. Has an accent that he says is Icelandic, independent contractor working on an oil rig in Aberdeen Scotland. Claims to be divorced with a 14 year old daughter. Pictures he shares are of a very nice looking man with a mustache snd short beard, salt and pepper. Says he is 57. I've asked him to send selfie's and hold a sign and date it and he's done it! Yet, there are shadows on the picture that could be lighting or photo shopped? My gut tells me that the guy I'm talking to is younger and I can't shake the feeling that he's using someone else's pics. Then came the story of the tragedy on the oil rig with a runaway piece of equipment. Many hurt. He tried to save these guys. He lost his wallet with his cash snd credit card. Here we go! He's responsible so he won't get paid and needs 3,000 to get home to California and pay his medical bills. I said no. His bank will reissue his card etc. he claims funds are frozen. He knows I don't believe that. Then he sent me information on buying bitcoins in case I change my mind. Do it for God! He says. I told him God said no. Then he started asking for steam cards and pushing for the 3,000 so we can be together. I stopped talking to him.
My Step Mom was talking to a man named Bruno, an alleged Architect, who was working under a Military contract and now she is talking to a Charles from Texas who is working in an Australian mine. So far Charles hasn't asked for money , but it's just a matter of time. The patterns are they have one child, working out of the country, something catastrophic happens where they need money, and they keep pushing back the time frame for which they come back to the states. Beware ladies. These men know you are vulnerable.
I just wanted to share my story. I have just been a victim of this oil rig scam. It is too late for me, I have already lost $70,000. The person is called Charles Liu. He messaged me and within a couple of weeks he said that he loved me. He is a widow, his wife died in childbirth, and he has a young daughter. He said he was working on an oil rig and had some problems. He wanted to send him $5000. I did it. Then he wanted me to send him more money, I did it. Eventually I ran out of money, I used up all of my savings. I asked when he could give me my money but he never replied back. Then I researched this 'Oil Rig Scam'. I thought I love this man but he is a fraud. He hasn't replied back to my messages. I am so devastated and feel so foolish that I fell for it. Be careful women! Don't send money to someone you have never met!!
I have been chatting with John Robert Brandon, says he is from Oklahoma, a civil engineer who was building a mosque in Turkey then got sent to Ekofisk, a big one rig operation in the North Sea. When he left Turkey he supposedly sent luggage to me with jewelry, a large amount of cash, and document. He used Hex Logistics, a Shipping company, and the luggage got confiscated in Ukraine for custom fees and now taxes. And he is stuck on Ekofisk, with bad health problems. Does any of this sound familiar? He says he is 62, and this is his last job. Can only interact on Hangouts.
Ladies PLEASE BEWARE of MARK ROLAND I'm sure he uses other names too.I was scammed by him. He says he is a Swedish engineer on an oil rig in the North Sea. Very charming,says all the right things.Just don't cross him ,he'll become a completely different person, very belligerent. Claims his wife died of colon cancer and he has a daughter,Jenny studying to be a doctor in England. He is actually a Nigerian. Phone number is 510-544-7459.
Has anyone been chatting with a guy named Antonio Piero on a oil rig in the gulf of mexico has a son in the states staying with friends. He has told me the company name and the platform name.he calls andd video chats with me. He has sent pictures.Just wondering if he ia a scammer.
I have a feeling I am being scammed. The name he is using is Ryker Hoffman. He says that he is Chief Engineer on an oil rig in the Gulf of Mexico. There is an account under that name on facebook with details identical to those he gave me and a photograph. Please have a look and let me know if you recognise him. Thank you.
Anyone talking to Jeremy Luster? He claims to be an engineer on an oil rig North Sea Aberdeen Scotland. Also needs money to get home to Houston to dying daughter.
I have an Adam Pacheco who is "on a ship" outside of Dubai. Son Owen is in boarding school. Wife and older son dead in plane crash. Loves me after a week,..... how do I see the pics you guys are talking about? This is a good looking gent with a beard.
Anyone heard of a man named David Lorenzo, working on a rig off of Sicily Italy? Wife snd son killed in car accident, parents deceased, claims to be from MO?
Beware of Andre Reifer he's a Jamaican guy who said he's an petroleum geologists working offshore live in New Orleans. Same story: widower, wife and son died in accident. He's a liar and he will ask for money. He's on POF date site. Good looking doesn't " meet the profile " don't get taken.
Has anyone talked to Patrick Moses? He is a general surgeon in Mexico working for UN. Has 2 daughters in boarding school , wife passed away 7 yrs ago in car crash
Has anybody been scammed by a Matt Walter. Same ole story. Works on oil rig in gulf of mexico. Can't video chat. Wife died car accident. One girl one boy in boarding school. Just recently ask for money to repair machine or he loses his job. From germany and lived in Miami. I have blocked him and done other things to discourage him. But he uses different names or emails. Please be aware. Thanks
Been talking to this person for 6 weeks. He confessed his live to me with 3 weeks. He is a chief engineer on a rig in the north sea. Lives in England. Wife died of cancer 6 yrs ago. Wife's name was Helga. He is very romantic, poetic, attentive and also sent me his SSN#.. To prove to me he was "real". He is finishing his contract on the rig and a pipe broke. Then he hit me with the bomb and asked to borrow 50,000 and will pay me back once he gets paid by Shell. Then he will be flying to the States. To live with me.(Not). .. he is going by the name Paul Lorenzo. Very handsome. I feel it's a scam, however, some days, I actually wonder. Anyone else talking to the same person??
Do someone is contacting with oil rig peroleum engineer by Kelvin A Nowland, from Austin TX widow, I found him in f.b with another name Kelvin Appolo ??
Oil and gas engineer - British accent- name of Oskar - says he lives in Canada but currently working in Turkey Has not asked for money but he keeps having all these dramatic things happen. Is this familiar to anyone?