If you've seen the news, 'romance scammers' are among the eighty defendants indicted today by the Department of Justice in a scheme that stole millions from Americans.
Check out this video about how to spot and protect yourself from romance scams. Then share it with your friends.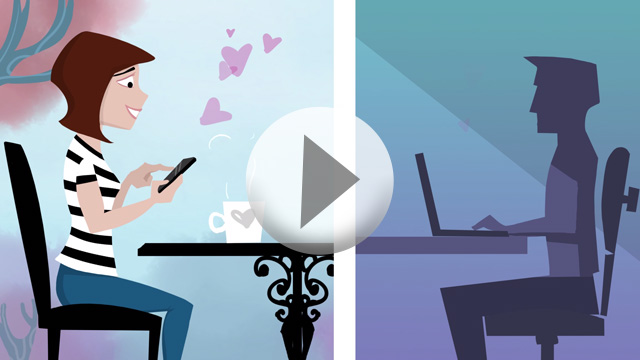 People reported losing $143 million in romance schemes last year, more than any other type of fraud reported to the Federal Trade Commission. But there are steps you can take – and then tell someone about. So watch the video, learn more, and pass it on.
530 Comments
---
All these sound similar. I met a guy dating site Afro Introductions. Claims name is Seith Laing an electrical engineer, widowed 8 years ago, has a grown daughter. I'm usually overly suspicious so I don't know how I let my guard down on this one. I can't find him on a Google or some Info sites. I did find out through Social Catfish that the picture he used is someone else. Every time I asked for a recent photo he sends pics from this guys Face Book page. Not long after meeting him he claimed he had to travel to Poland for business. There he says he was robbed of $1500 ..then he needed money. After that ends up in Dubai trying to win a multimillion dollar contract for his own electrical contracting company. He needs money to secure the contract. He orders phones for his workers he's hired for the project. I've not only been asked for money, but when he finally got funding he wanted to deposit the funds into my account. The funds were unauthorized now I'm in trouble with the bank as well I obtained loans for him. My family found out about the phones and they are angry with me and have threatened to get guardianship over me. I'm in my 60's and he's in his early 50's. My kids say ma this man is scamming you no way he really loves you and wants to marry you. He just wants your money. I truly love him and want to be with him and I believe he loves me. I believe that he's for real and that the people he got the contract from are scamming him. Please help me sort this out.
For 6 weeks (until Yesterday) I wrote with an American man who calls himself Alexander (on Tinder) and Alex Miles in contracts etc. After Tinder we communicated on WhatsApp ad he suggested. I figured him out very fast but pretended I was interested and did also become so but the whole time I had the feeling something was not right and so I was right. He claims to be an engineer, Living in Helsingborg in Sweden, Wind turbine specialist and suddenly (before our first date) he had to go to Cyprus on a project. After different problems on Cyprus he suddenly can t get his check for his work before he pays income tax etc ... and now he needed 15000 Euros and asked for my help. I Knew he was fake now, asked to see his passport which took me 1 second to see it was fake. Then I wrote I m out of here and goodbye.Have photos of him if anyone know this guy
I'm talking to an Alex Dominique from Columbia by birth. Lives in Indiana now. General Contractor. Had to go to Dubai for a job and needs 5000.00 to finance job. Im not sending anything but does this sound familiar to anyone? Always contacting me on WhatsApp.
does anyone know philip schmidt who claims to help build hospitals in the uk and is from ohio. needs money for knee operation but has no insurance !!!
Elling Strand. Oil Rig Norway.From Naples. Has 11Yr old daughter Sophia. Appears on Facebook,Instagram,Twitter. Asks for bank account info.Goes by many other names. Lewis Carton, Austin Hamilton, Larry Gregg. Please report.
Did anyone talk to a guy Robert Terry Barton ..own a oil rig company in Maryland USa?
Anyone talking to a Mohamed Charlie Khan or Charlie Khan?? He slid in my IG. Very handsome. Arab. Has a son Ethan 9 Oil rig worker
dr justin williamson in samolia. From ca. 17 yr old son in Australia. Wife died in plne crash. Kid is ivan harry. Now has malaria and needs 1500. Not getting it and is mad. If he is dr with united nations he should have it. Bank won't transfer. His kid is emailing calling me mom. Chris mcdonald here from Netherlands. Underwater welder in ca. They both wanted to switch from fb to hangout. Both love me and all this fake sweet talk. His wife died of breast cancer. 10 yr old son Alex in Amsterdam. He was always asking for Amazon cards. Anybody know these losers
Please be aware that LinkedIn accounts can also be faked. "Elling Strand" had a very professional LinkedIn account. Unfortunately it wasnt his. He stole the real Elling Strands account and copy pasted his photo on it. So they scam 2 people
Anyone know a Kendy posing as an Engineer on a ship at an oil rig in the gulf of mexico? Kids live with Nanny. He needs money to pay his nanny because he can't get to his money because he is on the ship.
Jeremiah Bradley lives in California Works for shipping Company overseas and Kelvin Aderson says he is 48 live in Maryland and has a 20 year old daughter oil rig independent contractor. First day the wanted me to delete scrabble go. Said he loved me second day. He speaks with a heavy accent you hardly can understand him. I tried to look them both up and neither them exist. Been verified/ Google them . I have pictures. I stop taking to them imediately
Is this man familiar to anyone? He's on an oil rig too. Clark Henderson Gunther. Born in Utah, 47 years old, 1 daughter divorced, has lived in Canada for the past few years. I have several photos, please contact me if anything sounds familiar.
David Erik from Sweden on an oil rig in Alaska... widow 9 years lost wife to ovarian cancer no children. Bald with a beard Needed money to repair a part that was coming from Canada... due to an explosion on the rig. Hurt his hands in a fire. Can't find anything on the phone numbers or photo
Anyone hear of a Collen Trey? From Peoria and quickly 'chosen' by his engineering firm to be a financial analyst on an oil rig off of New Orleans. Personal phone was taken by rig, given new phone-same number though - incapable of taking photos & audio??!!! Can only text. We've been texting for 6 weeks...he got on the oil rig a week ago. No mention of money to date.
I have been chatting with a polish man, Bruno. 53, widower, lives in NC. Daughter lives in Poland, is a geological engineer? Currently in Turkey, on a contract. Very good looking. Pics seem shopped. Has not asked for money. Has the European accent. Too, good to be true? Goes by Bruno Marcel
Beware ladies , Dating sites that have a guy named blue opal or he's a contacted in Tel Aviv working for the UN as a contractor. He tells you he loves you wants to o marry you and the ask for you to send him a cell Phone. Then tells you his wife & son died!! Awful... the scammers are so good at lying and reeling i you in. They'll say they can't talk to you on video hangout because it's a old base computer. Every excuse to not be face to face!!! Don't fall for it
Ive been texting with a David scott who works on a oil rig in gulf of Mexico. Before that I texted with a Murphy Larry. Has anybody heard those names. They may be scammers.
Has anyone been contact by a guy called Walter Victor (also goes by the name of Jackson Harry or MD Rony). Says he's in Yemen working for subsea oil and gas. Has a daughter who is currently in Scotland, his wife was killed in a car accident with his son in 2011. Says he's has a drop security box with a security company and the company is closing down so need to send the box back. He can't send or receive parcels/packages so needs me to take it. Wants my name, address, id etc...professes to love me even though we've only been chatting around a week.
Beware of Robert in the Army with a son in NYC studying robotics! This is the " gold bar scam" Also beware of Michael Harvey, wife passed of cancer, has a 2 clock tattoo on right arm and one one his lwr abs. Gives a list of credentials and pushes the trust and love thing right away. On an oil rig in Australia, lives in Hawaii, saw his BMW, his flat, and dog. Along with pics of him heading to the rig in a helicopter...he's good! He will try to get cash and claim he has never asked for help before. This one has a temper too if u mention scammers. Supposidely takes care of elderly dad and younger brother.
Hi iv been texting oil rig scammer .Derek ansell I'm looking for any one else. Who s been texting I found him on f b dating site
My romance lasted 4 months i fell so hard now my scammer comes clean and tells it him not the man in all the photos. I need to find this man I need to know who he is. The scammer says for $300 he will tell me everything about this man what can I find this man please help
Has anyone heard of Charles Jeffery Abbott or Jeffery Brummitt? He requested to connect on LinkedIn and he was a mutual contact with one of my former coworkers. He usually lives in Los Angeles but travels to different countries per year as a geologist. I feel like such an idiot that I didn't catch all the red flags, questioned him too late, gave money twice and almost a third time.
Does any one know Derek ansell
Hi...does anyone hear of a doctor originally from Milan but works in Chicago as a general surgeon. He is now in Yemen for 4 months. He has one daughter in boarding school in Chicago. He says his name is Philip Howard. I don't believe that is his last name. I have not heard his voice but says he has an accent? If this sounds like any one knows of him..can you send me pictures? Thanks everyone...I met him on tinder...
I live in Australia and David Nichols contacted me through Yahtzee had a few chats then asked for email then Whatsapp.. handsome, poetic, romantic. German, living in New York but working in Scottish waters 75k off Shetland Islands . Oil rigs, he financed to get 1million barrels of oil working with Clair Oils.. Sure was a smooth chatter . Too good to be true. I didn't get caught but so easily could have.
Hi have anybody come across a us soldier by the name of garrison Hamilton he has come up to me on Facebook but want to check if he's real
Add Richard Perkins to the oil rig scam
Has anyone ever been asked to pay with bitcon for someones travel back to the states?
I was contacted by a man, Walter Ludwig, German American, through LinkedIn. Picture - very handome man but I suspect someone else's pic. He wooed me for 1 1/2 weeks. Very attentive, caring man. Wife died 4 yrs ago from cancer. He has a 16 yr old daughter, who is cared for by a nanny, while is on an oil rig off Ireland. Said he had been there about 2 months. Asked me to switch over to Whatsapp, which I did. One pic on LinkedIn, a different one on Whatsapp, and one in the conversation were all of the same man. I asked him yesterday to take pics on the rig, with some selfies. Told me no pics on rig but took a selfie - same man. He asked me for an itunes card. I started researching his phone number. Stated the number was assigned to a landline. Tried to reverse ID photo with no luck. I texted him a message, explaining what I found out. He tried to make the situation my fault, saying I was the con artist. Even asked me why I had 2 LinkedIn accounts - I do not but he said I was. I uninstalled whatsapp and then wentvto LinkedIn where his account had been deleted. And no I did not get the itunes giftcard.
My sister I'm afraid has fallen prey to a guy who says he lives in Wisconsin but is working overseas In Israel for a company. She has sent him numerous amounts of money but is denying it to her family. He asks for money for different things ie a new phone , plane ticket as he has promised to come visit her but curiously never does and gift cards. She has sent him copies of credit cards and supposedly opened a bank account for him and her. It has really gotten intense and she won't listen to her family who is warning her of a major scam. She really thinks he is in love with her and is breaking up her marriage for this guy. I believe they have faced timed. His name is Richard and from the pics I've seen he has a beard and is always wearing a baseball type cap. I mm just wondering if anyone else has experienced anything similar with a guy who goes by that name. I've got to do all I can to help her see the real situation.
Im looking to see if anyone has heard from a man in the gulf of Mexico on a oil rig asking for money or gift card a nd trying to buy cellphone on your account using the mac reeves Ethan
Oh my gosh I have just became the latest victim of an online dating scam .Notndlly I do not fall for things like this .. This guy Alaard Cruff even went as far as forwarding me his flight confirmation and I knew it offf snd should have called them sooner rather then waiting .. He was a nice guy but after only one month o had sent him over a $100@ and feeling sick to my stomach. He was from Sodon ladies he is on different dating websites just be aware freaking scammer . He promises marriage and other things just be aware .
Anyone heard of Cynthian Jones? American girl from Dallas studying nursing in Ghana. No money but she is trying.
Okay y'all here is your warning- they are all scams! I received an FB friend request from Wayne sandez. I knew from the beginning he was a scam but talked to him just to see where it went. He claimed to be a peacekeeper in Syria. So when I told him I've been learning Arabic for 12 years and know many people from Syria and in Syria he stopped contacting me. The next day I got a friend request from David Troy William. Said he was working with an oil company in Germany. His profile pictures were up an older gentleman at a desk and looking very posed. Right away he start trying to talk romantic and contacting me at all times even though I made it plain I am not interested in anything... I could tell his English was just a little 'off' so he is foreign. Google searched His image and the real man belonging to that picture is a mayor of a city in Turkey! When I searched the name David Troy Williams on FB there were several profiles using the same pictures. And one of the profiles I looked at his photos and it showed all the same photos of the Turkish man. But also a picture of a man from Thailand with some Thai language comments from him. He is the actual man I've been talking to! So shortly after I found that he sent me a message asking me how I feel about internet relationships. I told him they are not for me. Anybody could be pretending to be anything. Like maybe this is you! And I sent him the photo of the man from Thailand. He got mad and then I've never heard from him since! People - don't fall for these things. When all you have is words on a screen. Why would they be in love with you? Do your research - these things that are easy to find.