If you've seen the news, 'romance scammers' are among the eighty defendants indicted today by the Department of Justice in a scheme that stole millions from Americans.
Check out this video about how to spot and protect yourself from romance scams. Then share it with your friends.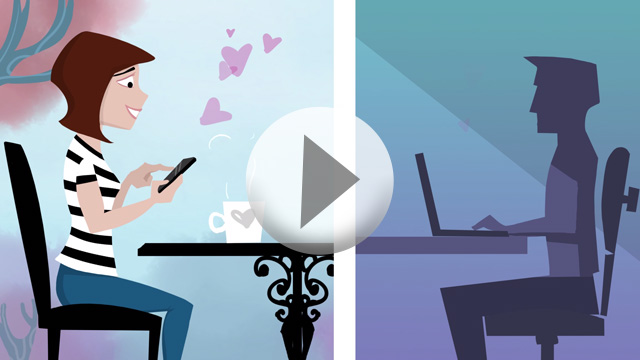 People reported losing $143 million in romance schemes last year, more than any other type of fraud reported to the Federal Trade Commission. But there are steps you can take – and then tell someone about. So watch the video, learn more, and pass it on.
530 Comments
---
Anyone communicating with a Victor Maxwell? Oil rig in Gulf of Mexico.
Collin Scott and Mark Fitzhugh are using same pictures ! Money hungry! Mark works in the rig or an engineer stationed in South Africa ! I was a victim with this guy and sent him iPhone and iTunes $500 every other week! Careful very good and sweetness overload ! They are just ugly using good picture s! Selfish and bad accent!
So I think I'm scammed by Spencer Wayne. Anke Tacke and or Michael Eisenbone. Anyone scammed ?
This guy found me on LinkedIn, goes by the name Mike Park, born in Korea but live in US. email: parkm861 @ whatsapp ID: 1213419824 . We started chatting, he started to ask me for money for shipment of equipments from US to Turkey as he got a new contract in Turkey but bank account has been suspended due to plenty of failed attempts. Asked for US$9,000. I blocked him and he was so mad.
Has anyone been scammed by a guy named leon thomas..meet him on IG then started video chatting on skype...just asked me for 500.00 to get his cousin who is 12 out of italy because of corona virus..
My mother-in-law is being scammed and she will not see it everything I am reading on here is the exact same thing she is being told Mike Peterson offshore rig been on the ocean for three years wife died in a car accident going to a gospel concert his dad was from Georgia but he was born in Singapore he wanted her to go to hang out but now they are on WhatsApp please help me
A man contacted me on Instagram and within 3 weeks he says he loves me. He is electromechanical engineer from New York. He went to Norway and drilled oil. Now says he is stuck and can't pay the Tax on the contract because of the covid virus. Needs money. I was believing it was real until he asked for money
Has anyone here had contact with a oil rig worker, supposedly on a rig in the Gulf of Mexico, named Benjamin Craig, Craig Benjamin, Greg? Photo incredibly gorgeous, daughter Sonia is student at Cambridge, widower 2012, called me Mom.
I guess I just joined your club of victims. His name is Lawrence (calls himself Louis) Moore, email is: lawrencemoore092@ , phone # 709-260-0066, on an oil rig off coast of Newfoundland. Wife died in car accident, son in boarding school in Ireland. Sent Friend Request on Facebook, then asked to switch over to Hangouts app. I lost $900 sending him gift cards for his son's computer, before my brother sent me a web message about oil rig scammers.
I am recently talking to Robert Frederick who works on an oil rig and wants me to be a beneficiary to receive money from United Nations consignment box. I told him no I don't want responsibility for his money
Is anyone chatting with some one called Mark Sinclair? This guy claims he is "the" Vin Diesel. I chatted to him for a while a couple of years ago. Told me all his problems, saying he reckoned his wife was cheating on him with his manager!!! Alarm bells started ringing pretty early on but came to a head when he asked me for £200. Never spoke to him again. So if anyone is chatting to someone fitting that description then end it now.
Hi all, I have lost almost 30,000 euro to a guy named Carl Philip, apparently from Fort Worth, Texas. Working on oil rig in Russia. He contacted me in Poland where I live. I am still in shock from this. I have been really stupid. Oil rig scam is real. Please warn everyone.
Has any one came across a Jeremy Grayson? I cant tell if he is for real or fake. I have already told him that I will never send money or gifts. I do not give out personal information. He sats he is a is a biomedical engineer looking to retire and relocate to find happiness. Only has mother living. Says hes from Florida. Very romantic and deep. Says around or close to 60 years old.
Reading through these sad tales, I wonder why our government has barely done a thing to protect its citizens? If the president of the united states or the prime minister of the UK would get up and make a speech about this and actually warn people, then a lot of people would listen and be more informed and could avoid losing their life's savings.
Has anyone talked to a guy called. James Garvey. He is from Texas, widowed left with one daughter called Nancy. He's apparently a great oil rig contractor and is currently stuck in Spain. He's called twice with a heavy accent, even though he was brought up in the USA, but born in Zurich. He has said he is part Jewish. Was very in love from the beginning, which I thought was abit odd. Thankfully my intuition kicked in and I became aware of him, finally he asked for money as he needed to fix pipes, even though he is a well off oil contractor. Ive since tried to get him to own up that he is lying. However now I'm the bad person. Lolol. These guys doing this have mental health issues. Plus he only spoke on hangouts which I never needed. Now if blocked and removed my hangouts app.
I've been talking to this gentleman for 8mths goes by the name Patrick michael claims his wife passed of cancer and he has a 12 year old daughter named lisa one of his pics are on timey when I did a reverse pic lookup but his others aren't. Has anyone encountered him?
I've meet Robert Arno Powell from Massachusetts. Works as a scientist, divorced with twins. Photos on Instagram include his kids and coworkers, and his workace. He took a contract in Turkey for 3 months. Then it was extended. Buys oil barrels, and is from South Africa originally. He asked for help with a barrel deal early on. Afterwards, he has asked for cards because he left his credit back in the US. I was aware he was having difficulty w his phone prior to leaving for his trip. Replaced the phone 2x, last time prior to leaving on the trip. So he doesnt have his apps loaded. The url doesnt allow him upload them. He uses WhatsApp, hangsouts and instagram. Have video chatted, spoken on the phone, and the photos match. I am torn... it's been over 4 months... I've checked every possible angle but cant find anything about him on the internet. I'm waiting and seeing but there's always a little nagging thought he could be a scammer. Hoping not but going to place this online just in case. Thank you.
Does anyone know anything about United Nations HON organization? There is a girl studying to be a RN in the United States from Dublin, Ireland. They want me to pay a safekeeping fee that will be refunded after 3 days if they know she is safe after posting her in my state??
Beware of Magnus Erickson. Supposedly has a 13 year old daughter in boarding school in Portugal. Her name one day is Daniella and the next day is Becky. She has a nanny when she's in Denmark and his mother lives in a large yellow house. Of course he sent me a picture of it. His wife died 5 years ago but he still can't talk about the loss. Poor guy. He's off shore in Louisiana and has a $750, 000 contract coming up. He'll ask for gift cards for his daughter's school work. Then he'll ask for your I'd with photo, name and address so he can have that $750,000 check and some gold coins delivered from Russia. It's a box with a code and once you receive the box, he'll send you the code. He's charming and polite and speaks Danish and english not so well. He did not get any money from me. Please be careful. He's a smooth one and he'll ask if you're Christian and use God as an attraction.
Hello is someone chatting with a woman named Mary Johnson from Nigeria?
Clark David is his name. He said he gas 2 kids in boarding school. Wife died 5yrs ago. Working as engineer at a oil company..ask me to send him an Amazon gift card for his daughter birthday. Is any one familiar with him.
Mark Vincent James is his name. He said he is a surgeon working as a peace corp in Sudan. A son in boarding school back in Toronto. Asking to send him money for his exit visa from sudan..please advise
Gorgeous petroleum engineer. Wife died in childbirth. Nineteen year old son who lives with the engineer's elderly mother. Both need medicine and account has been frozen while awaiting a large payment and friend spent all of his money. I have pictures I'd love to show to others and see if you've been contacted by him. Doesn't matter what his name is because I'm sure it's not real. Says he lives in Michigan.
Looking for anyone who has been talking to a Thomas Nappa. I have found 2 other women who have had conversations with him on Google Hangouts. He is very sweet and caring; says he loves you fairly quickly. He was on Plenty of Fish and now he may be back on the site with a different name and location. Watch out, eventually he asks for money. None of us sent him any but we want him stopped.
Anyone talking to a guy named James Maxwell who lives in Miami but he's originally from Sweden? His wife and younger daughter died in an accident but he has an 18-year-old daughter living in Sweden. He is on contract with Exxon Mobile off the Gulf of Alabama on an oil rig until early July. Texts perfect english but has a heavy accent.
What happens to elders who fall prey to this (loosing all of their money) and who reside in assisted living in regards to the 5 years look back for medicaid eligibility?
I have been involved on line with a person, who said originally that he lives in the Washington DC area, also in L A. He had to leave to work on an infrastructure contract deal in Scotland. Right away, he was very romantic, said all the right things. After about a week the requests started coming, for gift cards needed to supposedly update his iphone. $500.00 worth. I said no. He said that's ok. He will figure it out, but he didn't. Now the requests are coming fast & furious, always pleading for me to please help, especially if I truly loved him. Oh, he's good, says all the right things, sometimes I almost convince myself to do it , but then common sense sets in. I must remember the warning. never send money to someone you have never met. He has really touched me emotionally but I know the advice would be to stop this now. All the warning signs are there. I ask myself, could he really be an honest person, and not a scammer? Does anyone else feel this way?
I've been talking with this guy, Carlos Morgan, for about a month now who works on a deep sea oil rig outside Aberdeen, Scotland. He contacted me through a facebook post, and suggested we talk through the hangouts app. He is reluctant to talk about himself by said he was "abandoned by biology" is alone in the world and was looking for a special woman to settle down with and, maybe I was the one of his dreams and prayers. He was quick to say I love you and wanted me to do the same. Writes beautiful poetry and lately been calling me his Juliet. He is charming, Baptist "member" and delightful. Because I am skeptical I kept waiting to hear something "out of the ordinary" and did not until today, a whole month later. He said something that I didn't understand and then responded with I could write to his company and they would allow him vacation to come "home to me" and you guessed it, I would have to take care of the cost. When I responded I can't afford that, he said "am I not worth it?" Have you ever looked up what they make working on a oil rig? I did because I was interested in knowing more about a rig and the salary was right there too. Why would he need my money to get to me? It would seem that he makes plenty. If he thinks he can con me into sending him money he's sadly mistaken. I may enjoy the compliments and the poetry but get serious. I wasn't born yesterday. Just be careful when getting into anything online. I really enjoyed him but if he seems too good to be true he probably is.
Hello All, I have a feeling my sister getting scammed she had a guy message her on Instagram then ask her to hangouts they been chatting for like 5 months. She says he is from La is a private electrical contractor went to Turkey just before Covid hit got stuck there with no flights leaving and even sent her the supposive contract without her asking. Then when coming back in finally for flights he asked her to search for he had shown to have a fever at airport then stayed there in London area for 5 weeks for Covid treatment and rehab. Then when they were to meet the second time he had his mom pass away from heart issues in Portugal and had to go there because his 3 yr. old grandson there with the nanny who contacted him about his mother's death. Also the grandson's mother died a couple years ago. The guy says he from Portugal is an only child. I told my sister I really think you being scammed try to video with him on hangouts she says I have not had time I'm not worried since he sent me the contract he just had bad luck but he is legit. Tells her he wants to buy her a car and take care of her and her kids. I asked her has he asked for money she says no. I really feel it's a scam and she is vulnerable because her and my brother in law had issues and are separated. As her sister I can see well from outside but she don't want to believe it. The guy goes by name of Jerry Foster.
My friend was playing along with a woman that was on pof she wanted him to send information so she could get money from her dads inheritance she wanted him to take a pic of his driver's license and ssn and full name and email it to her she says she is talking to an attorney she is a big time scammer my friend told her to shove it her name she goes by is rose a standley and she says she lives in Colorado springs